Ananta Yoga & Wellness Retreat
Come and join this 3 days Wellness Retreat at 5 Star Marjan Island Resort & Spa, Ras Al Khaimah to experience the amazing connection between your body and mind and to "come home to yourself" and discover YOU within.
This 3-day yoga & wellness retreat will transform you to live a better life physically and mentally, along with some holiday activities and local sightseeing.
You will get to understand the yogic way of life and that could lead you to discover the true you and make you feel comfortable and at home with yourself and take care of yourself.
Register Now!

Check In
3PM December 16,2021
Check Out
12PM December 18,2021
Duration
3 days, 2 nights
Location
Ras Al Khaimah, United Arab Emirates
Hatha Yoga
Yin Yoga
Yoga Nidra
Restorative Yoga
Detox
Trataka
Meditation
Know about Ayurvedic Cooking
Know about Juicing for health
Mindfulness & Awareness
Kirtan & Chanting
Homa
Yogic Lifestyle knowledge and discussion session For Journey home to healthy self
Free Gift
Spa Voucher per person
Skill Level
Beginner, Intermediate & Advanced
Fee, deposit and Cancellation Policy
AED 1999/- (USD 548) Twin Sharing. Booking deposit AED 500/- (USD 137). 50% by 25 Nov and balance by 05 Dec
100% refund for cancellation before 06 dec.
50% refund for cancellation between 07-15 dec.
0% refund for cancellation from 16 dec or retreat start date.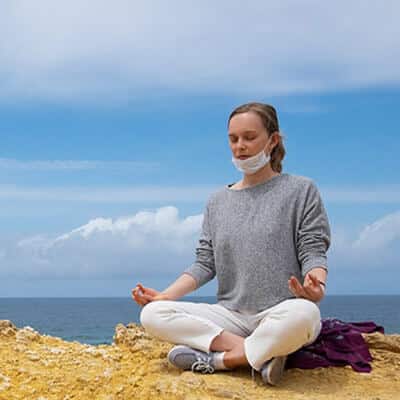 Be more relaxed and refreshed than you've ever been
A chance to get away and step aside from all the hustle and bustle of city Life and find the way to yourself
Become stronger mentally and find inner peace
Peace and quiet for the mind, refreshing energy for the body
Detox physically and mentally
Strengthen and energise yourself
Learn yogic lifestyle
Full Description
This retreat is facilitated by an established and well-known yoga studio in Dubai, Yoga Ashram and the retreat is led by well-experienced Yoga Teachers from Yoga Ashram. During the yoga classes, you will learn about traditional Hatha Yoga, Pranayama, yogic kriyas, relaxation techniques, meditation and learn about changes you need to make for a healthy yogic lifestyle.
Our highly trained and experienced yoga teachers will guide you to train your mind in such a way that, with practice, you can always find peace and joy at your fingertips.
Our retreat is located in the most beautiful 5-star hotel in Ras al Khaimah, Marjan Hotel and resort.
Request a Callback!
Please fill out the request form below to get a callback.
Program
Day 1
Check In from 3PM ( you can enjoy all the amenities till 7PM)
7:00PM Dinner
8.30 PM Yoga Nidra and Meditation with Kavita
9.30 PM Bed Time
Day 2 
6:00 AM Wake-up
6:30 AM detox drink & nasal cleansing with Kavita and Shashank
7:00 AM Pranayama, chanting, and breathing exercise with kavita
8:00 AM Vinyasa Session with Shashank
9:00 AM Nature walk
10:00 AM Breakfast
11:00 AM Knowledge session / Ayurvedic Cooking & Juicing Talk with Jaya
1:00 PM Free time
4:00 PM Alignment Introduction with Vibin
5:00 PM Yoga Stretching & Strengthening with Vibin
7:00 PM Dinner
8:30 PM Chanting & Meditation with Kavita
9:30 PM Bed time
Day 3
6:00 AM Wake-up
6:30 AM detox drink & nasal cleansing with Kavita
7:00 AM Sunrise Yoga with Shashank
8:00 AM Pranayama and Meditation
11:00 AM Breakfast
12:00 PM Check out on the Reception ( You can leave your belongings in the Reception and enjoy amenities in the property till 6PM)
Food
You will be served healthy vegetarian meals daily. It is advised that you avoid outside meals.
What's Included in This Package
Wifi connection
Daily meditation classes
Spa Voucher
Water, herbal tea served throughout the day
Luggage storage
2 night accommodation
FAQ
(Frequently Asked Questions)
This program aims to educate the student on various styles of Yoga that are available apart from the mainstream Hatha, Vinyasa styles that have become the mainstay offerings in most yoga studios. It will breakaway the temptation to stick to one generic sequence or style and rather encourages the student to come up with their own unique, creative style of teaching.
This teacher training will also cover 'mindful' teaching practises and give a strong Foundational aspect to understanding and teaching Yoga.
No on both counts. Yoga is for everyone!
Having a strong practice or even being 'flexible' is not critical to being a great yoga teacher; all ancient yoga focus much more on the benefits of meditation and controlled breathing practices than on postural yoga. This program aims to provide a balanced view of all sides of yoga ie. The 8 limbs of Yoga.
Every class will normally include some lecture and discussion, usually in the early part of the day. Detailed outlines will be handed out before each class, allowing students to fully concentrate on the subjects of the day without taking notes.
We will begin or end the day with good teacher-led, ninety-minute practise sessions.
The rest of the day will involve interactive practice in a wide range of postural, controlled breathing and meditative techniques. Late afternoons will be dedicated to hands-on practise teaching, which has been found to be essential even for those who don't plan on becoming professional teachers as those who teach ' learn twice'.